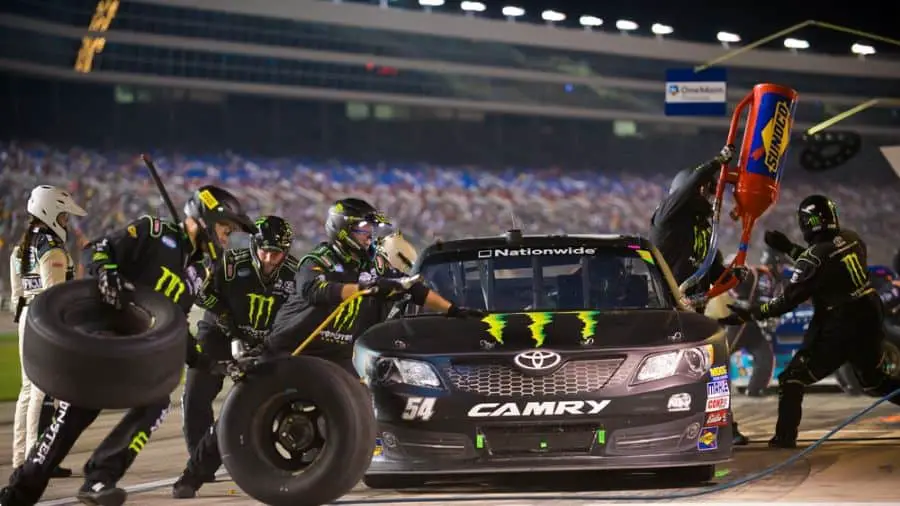 NASCAR is world-famous for its thundering V8 cars, high-speed oval racing action and attracting more than 250,000 spectators to each event. Many fans would think NASCAR is an individual sport, but it is in fact very much a team sport. If you've been wondering how NASCAR teams work, I've studied this and got the inside line to take you to Victory Lane. "Gentlemen, start your engines!"
NASCAR racing drivers are employed by teams and these are limited to four cars each, sharing resources to increase teams' chances for race and championship success. NASCAR teams can be understood in two ways: firstly, teams as organizations that own and manage personnel; secondly, as people that work for an individual car.
NASCAR is anything but an individual sport. While the racing drivers might grab the media's attention and play the most critical role on race days, teams supporting their drivers play a vital role and are talented in their own specialized fields. Read on to learn more about this thrilling motorsport in which I will help take your NASCAR team knowledge from zero to 200 mph.
How do NASCAR Teams Work?
NASCAR fans and followers call two things 'teams'. The first is the organization that owns the race cars and manages the personnel.
Examples of organizations:
Joe Gibbs Racing
Stewart-Haas Racing
Penske Racing
Hendrick Motorsports
This is similar to an American Football team or a Formula 1 team in its structure. In the NASCAR Cup Series, regulations limit the teams to run a maximum of four cars.
The second thing people call "teams" in NASCAR is the group of people who work for an individual race car, almost like a team within a team. This would usually be the case when people are talking about a specific car number, or a sponsored car, or a driver's team.
To put that into context:
Stewart-Haas Racing is a team / organization.
One of their three cars in the 2020 season is Kevin Harvick's (driver) #4 Busch Light Ford Mustang.
Race reporters, commentators and fans usually speak of the "#4 team", "Harvick's team" or the "Busch Light Mustang".
The team referred to in this way consists of the crew at Stewart-Haas Racing devoted to the #4 car team.
Organizations such as Stewart-Haas Racing pool their resources across the 3 cars they own and race in NASCAR's Cup Series with their personnel working together to benefit the entire organization.
In the NASCAR Cup Series though, the fans' focus is mostly on the driver's championship in which only the individual driver's result matters. There are other championships at play, too: the team owners' and the manufacturers' championships.
The NASCAR Cup Series' regulations are set up in such a way that only an individual car team can win those championships.
For example, the #4 team will win the driver's championship, the owner's championship for Stewart-Haas Racing and the manufacturer's championship for Ford.
Unlike other motorsport series such as Formula 1, there isn't a huge amount of teamwork and cooperation between the different car teams within an organization.
However, the car teams might work together in situations where aiding the potential championship winner is possible – such as in close pack racing – by helping them advance up the field to score more championship points.
What makes NASCAR so thrilling and unpredictable is that if two or three teammates each have a shot at winning a race, they'll fight each other to the checkered flag.
What are the Different Types of NASCAR Teams?
In the National Association of Stock Car Auto Racing, NASCAR teams are able to compete in three NASCAR series: the NASCAR Cup Series, Xfinity Series, and Camping World Truck Series. Thanks to its global popularity, NASCAR events are held across 48 United States, and also in Canada and Europe, over some 1,500 races on 100 different race tracks each year.
NASCAR teams can be further subdivided into three categories according to the championships they contest:
Manufacturer
Owner
Driver
While race drivers are strapped into their thundering V8-powered machines to do battle at high speeds, they race for victory, championship points, and all the rewards that go with it.
The manufacturers doing battle in the NASCAR Cup Series are:
Team organizations are limited to four-car entries per series and this means that race drivers and their teams work alongside their team-mates for the benefit of their overall Owner's Championship and Manufacturer's Championship.
However, only one car team can actually win the overall trophies – but, team-mates are able to strategically assist the highest-placed driver in securing the biggest haul of championship points possible.
How Many People are There in a NASCAR Team?
As a cost-cutting measure, NASCAR's Cup Series limits the number of people a car team can bring to races. For 2020, this is a 15-person team per car. This number is made up of 10 road crew members and a total of 5 pit crew members. These comprise of the Team Owner, Team Manager, Crew Chief, Specialists, Engineers, Mechanics, Pit Crew, Truck Driver and Spotter.
While NASCAR's Cup Series has restricted the number of personnel allowed at race venues, a workforce of around 100 people are feverishly busy back at the team's race shop and factory to support the engineers and specialists on the pit wall at the race venue.
These specialists and technicians are able to provide support on a number of systems and areas to improve the race car's performance remotely. With race cars' running extremely complex electric control units across to measure performance parameters, technicians and team personnel are able to provide up-to-the-minute accurate feedback to their colleagues at the race track for immediate performance updates during a race weekend.
What are the Different Roles in NASCAR Teams?
To highlight the nature of NASCAR teams, here's a breakdown of the various roles within a race team in NASCAR's Cup Series:
Team Owner: The Team Owner is like the CEO of a business, the person responsible for signing off on all staff decisions, staff matters and that holds the ultimate control over the team organization's finances. Attracting and maintaining sponsors to fund the race team's objectives is one of the Team Owner's primary functions, as well as running the team in a sustainable fashion for continued success. Some Team Owners are former race drivers, but many have progressed through the team organization's structure from engineer to crew chief, to manager and into the role of Team Owner. This is a complex role and it truly encapsulates the nature of this sport and of its cut-throat business environment.
Team Manager: Leading the team in its day-to-day operations and race weekend functions, the Team Manager is the Team Owner's right-hand person. The Team Manager is tasked with overseeing the racing operations from the race drivers to the various engineers, specialists, technicians and mechanics. This position can be likened to that of a quarterback in an American Football team.
Crew Chief: Tasked with making the decisions for a driver's team is the Crew Chief. This team member is responsible for the on-track performance of the car and driver during race weekends. These functions extend to overseeing the design, management and direction of the car's various performance areas such as aerodynamics, suspension, and engine. The Crew Chief requires an intense and thorough insight into the inner workings not only of a race car, but also the dynamics of his pit crew, technicians, specialists and engineers. The Crew Chief forms the link between the race car driver and the car and shapes that into a race-winning unit.
Department Specialists: Engine, Tyre, Aerodynamics, and Suspension Specialists provide deep insight into the states of the car's various key performance areas over the course of a race weekend. Aiding the driver in finding the optimum setting for the fastest lap times is their priority.
– The Engine Specialist ensuring the race car's engine is 100% strong for race-winning performances, but also manages the engine's development over a race season to improve its reliability and power.
– Finding the right tire compound, managing the tire's wear levels and performance is a vital job for overall speed, and the Tyre Specialist oversees this critical role.
– The Aerodynamic Specialist (or aerodynamicist) develop parts and solutions – within the ambit of NASCAR's rules and regulations – to further extract performance from their stock cars to be even more slippery through the air and be more stable through turns to provide downforce for increased traction for the tires. Each track provides unique challenges and weather conditions – such as crosswinds – can cause the car to behave unpredictably around a lap and this is for the Aerodynamic Specialist to cheat the wind's effects.
– The Suspension Specialist tunes the way a race car behaves over the race track's surface and is responsible for helping the driver to extract the most speed out of the car's traction, bump absorption, turn-in efficiency, camber, toe, rake, ride height and more.
Engineers: A number of essential engineers trawl through the hundreds and hundreds of performance parameters' data gained over laps around the race track to provide insight for the Specialists to effect into the race car's tuning for enhanced performance.
General Mechanics: From general maintenance and fine-tuning, mechanics carry out all hardware changes and enhancements to their race cars.
Pit Crew: The Pit Crew is a five-member squad that refuels and repairs race cars during a race weekend's on-track action. During races, which run from 200 miles to 600 miles in distance, race cars must serve mandatory pit stops for fresh tires and refuel. The five-person Pit Crew are the only ones allowed by NASCAR's rules for this job. However, the five-person crew may comprise of engineers, mechanics or specialists or consist of five dedicated pit crew staff. Smaller teams will see their engineers and specialists carrying out these pit crew duties, while large teams such as Stewart-Haas Racing will employ dedicated pit crews.
Truck Driver: Also called a Truckie, the Truck Driver is responsible for all transport and logistics aspects of a team's equipment, race cars and other materials to and from race venues to their factories and race shops. The truckie usually doubles as a mechanic or a member of the Pit Crew too.
Team Spotter: Race drivers depend on their team spotters to relay useful information about the track condition, their rivals on-track position, and accidents. The Team Spotter is usually positioned atop one of the grandstands or support buildings for a clear view of the entire race track.
Media and Public Relations (PR) Officers: Each NASCAR Cup Series team employs the services of media and social media specialists to keep their team's followers and fans informed of their performance and activities during and between race weekends.
What do NASCAR Teams do during Race Week?
Sundays are reserved for NASCAR Cup Series races, but a team's work week starts on the previous Monday. This is a look into a typical race week for a NASCAR Team:
Monday: For race drivers, Monday is spent recovering from the previous day's race and for debriefing sessions with various engineers and specialists to assess the race car's performance.
Tuesday and Wednesday: NASCAR Cup Series teams usually devote Tuesdays and Wednesdays to testing their race cars at tracks where upcoming races will be contested. Finding the optimum race setup during these two days of testing will mean the team can spend more time fine-tuning it to eke out even more of an advantage over their rivals.
Thursday: Race drivers travel to the upcoming weekend's race venue.
Friday: Qualifying sessions are held on Fridays – which are as important as race days – for teams. The driver must complete the fastest possible lap times around the circuit to determine their starting positions for the race on Sunday. While there are 43 NASCAR Cup Series race drivers, only the fastest 38 times will qualify, while the remaining five slots are accorded provisional entries. These provisional spaces are then filled only by race car owners that have accumulated Owner points during the season.
Saturday: The eve of the race day is dedicated to practice sessions on track by drivers and intense strategy sessions behind closed doors. The "Happy Hour" is a driver's final chance to fine-tune their car's performance before the next day's grueling race.
What do NASCAR Teams do on Race Day?
A NASCAR Teams' race day doesn't solely comprise of only the race. A driver's duties include sponsor's meetings and appearance, media interviews, fan interactions, as well as driver briefing sessions with NASCAR officials and their respective team's management.
Race drivers climb into their race machines for the first time on race only 30 minutes before the race's start. Pit Crew members help the driver strap in and secure necessary safety measures and equipment. Only after that does the Race Official call the world-famous phrase: "Gentlemen, start your engines!"
All NASCAR Cup Series races are started with a rolling start process, meaning they start behind a Pace Car at speeds of around 70 mph around the track until it peels off into the Pit Lane and the green flag waves to begin the race.
During the race, Pit Crews are the only members allowed onto the Pit Wall to repair, change the race car's tyres and refuel it. The road crew are usually based inside the team's motorhome studying their race car's telemetry and replaying information to the race driver.
After a race, drivers are required to attend sponsors meetings and appearances, media interviews and more fan interactions before heading to their teams for debrief sessions on the day's race performance.
How Much do NASCAR Team Members Make?
A NASCAR Cup Series Pit Crew member earns from $80,000 to $120,000 per season, while engineers and specialists can earn from $150,000 to $250,000 per season. While salaries of specific team members are difficult to determine.
How Much do NASCAR Teams Make?
NASCAR racing isn't a cheap sport. To compete at NASCAR's top-tier Cup Series, NASCAR teams spend a reported $400,000 per race week for a season expenditure of $15 million. As these costs are eye-wateringly high, NASCAR teams need to generate funds through sponsorship deals and race winnings. For winning the coveted Daytona 500, NASCAR teams will walk away with a $2 million paycheck.
While prize monies don't pay for all the bills, NASCAR teams depend on sponsors not for success but for survival. With a number of sponsors for each car team, each contribution goes a long way to paying salaries, repairing and replacing parts, developing race cars for more performance, and the day-to-day functions of the team organization.
Do NASCAR Teams Have the Same Sponsors?
Basically, there are three tiers of NASCAR sponsorship: contingency sponsors; associate sponsors and primary sponsors. Furthermore, sponsors are able to support at different levels of NASCAR too: at series and race track/event level, team level and driver level.
Sponsoring a NASCAR team is similar to other professional sports, where sponsors attain rights to the use of logos, team members and are considered "Official Partners" of the team. These are the stickers you'll see spread over the individual race cars.
Large, successful team organizations might have multiple sponsors for each of their car teams, while smaller teams might share sponsors across their car teams. Sponsorship money ranges from product support (such as items ranging from tires to engine lubricants) to approximately $40 million per season. This is a sport to rival any successful business.