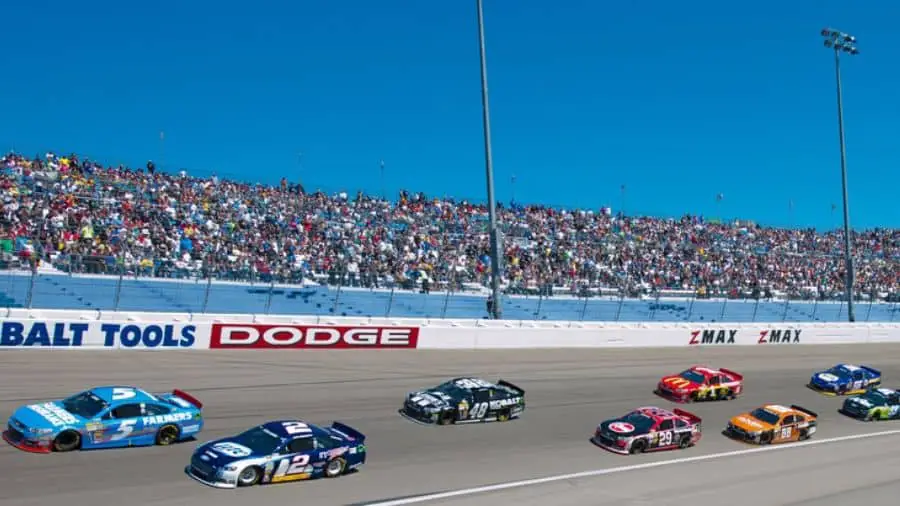 NASCAR has greatly evolved since its inception in 1947 with faster, more advanced vehicles, engineering and more expensive motor racing equipment as well as sponsorship deals, TV and radio broadcasting rights and elite multi-million-dollar teams.  Increased NASCAR complexity and a decrease in race track spectators affect ticket prices which range from $30 to over $100 for standard tickets to over $1000 for VIP packages.
NASCAR tickets are expensive as costs involved in having an elite racing team and hosting race events are continuously increasing with the evolution of the sport.  Despite not being the most expensive major sporting tickets on the market, NASCAR has drifted a long way from its homemade stock car roots and has a ticket price to match.
Most people are blissfully unaware of how much it really costs to host a team in the NASCAR races.  Regardless of event series or location, there is no doubt that stock car racing is now a big-money event.  Top of the range engines can go for $100,000 and broadcasting rights for a few billion dollars and winning teams pocket a couple of million dollars.  NASCAR racing is big money, coming in and going out.  They say to make a small fortune in racing, you need to invest a big one first!
Why are NASCAR Tickets so Expensive?
Ticket prices are expensive due to to a number of reasons:
Vehicles are expensive – maintenance, research and development, specialized parts etc.
Team costs are factored in, including salaries, travel and accommodation
Reduced ticket sales
Prize money purses are huge
More expensive ticket packages offer VIP treatment
Track maintenance costs
Ticket prices vary greatly, at Daytona you can expect to pay in the region of $49 – $75 for front stretch seating however different packages including camping can go into the thousands of dollars. The Las Vegas Veranda package costs an eyewatering $8000, this package offers scanners, concierge & RV lounge, continental breakfast, Wi-Fi, private restrooms, a guided garage tour and a Driver Intro Pass.
NASCAR has shot past the founding days of old school motor racing, full speed into the commercial and costly world of televised professional sports, in the space of a few decades.  But just how did NASCAR tickets become so expensive? 
Reduced Ticket Sales
Ticket sales accounted for the bulk of NASCAR's revenue when the formalized sport was at its peak for a decade from the mid-1990s. 
Upwards of 180,000 fans would crowd around busy snacks and souvenir stalls and fill packed speedways in Daytona, Fort Worth and Talladega.  But NASCAR ticket sales have been in steep decline since 2005 which has put a dent in other earnings:
Food and drinks at the venues
Memorabilia
Souvenirs
Additional experiences like garage tours and pit passes
With less people attending events, the ticket prices are now more expensive to make up for the loss in earnings.
Prize Money
NASCAR stopped publicly reporting the race purses and prize money payouts since 2015.  The 2015 winning pot for the Daytona 500 race consisted of 18 million American Dollars.  That year's race winner, driver Joey Logano, won US$ 1.6 million prize money.  That equates to 8.8% of the total Daytona 500 Purse which is reportedly the standard payout percentage for previous years. 
On the 14th of February, 2020, NASCAR announced the astonishing US$ 23.6 million purse for the 2020 Daytona 500 race prize collection.  This makes it the largest motorsport purse in American history which – based on 8.8% payout – means the 2020 winning driver is the first in NASCAR history set to win just over US$ 2 million.
NASCAR Team Costs
But you have to know, running a NASCAR team is serious money, which is also why NASCAR tickets are so expensive.  We are talking around $400,000 a week for the more successful and notorious teams, but even almost half that for the less-famous teams (those who are semi-professional and do fewer races throughout the year). 
Besides the driver, there is a fairly large behind the scenes team required to make a race happen.  Particularly now as the race has grown from predominantly Southern race tracks to branching out all over America. 
This is another element to why NASCAR running costs are ludicrously high; transporting vehicles, spare parts and lots of humans who also have to be housed and fed for the duration of the race and set-up / close-down operations before and after. 
Travelling and Accommodation
This can cost up to $40,000 a week for a professional team that usually needs up to 10 hotel rooms for their crew. 
As race weekends are peak travel times in the areas of races, hotel prices can become ridiculously steep the closer you are to the track. 
Often teams will need to hire regular vehicles whilst they are on the ground, as many will fly to the various tracks in either a team's privately-owned planes or on a commercial airline.   
Mechanics
Vital spare parts such as suspension, axels, cooling systems, gears, new racing tires, insurances and other fees can quickly add up to $100,000 a week for top professional teams.   
A new racing car is an easy $100,000.00 which is roughly the same for a new engine.  Of course, you can hire an engine as well as the specialists, and should you have the available funds, you could have a fresh engine for every race however lower-tier teams tend to use the same engine for up to 5 races.
Payroll
High profile drivers, as with many other sports, get paid high-profile salaries, with some earning almost $200,000 a week with commissions added.  Smaller teams work on a basis of sharing the winnings, with the driver getting up to 50%. 
The rest of the team comprised of engineers, mechanics, pit crew as well as the marketing and administration personnel can add up to an additional $100,000 a week in payroll requirements. 
Smaller teams get creative and individuals will often double or triple up on job roles to cut costs whereas the elite teams will use highly skilled specialists, who have one designated job role only.
Can you Buy NASCAR Tickets at the Gate?
Most NASCAR venues permit ticket sales at the gate before the event half-way timer.  Leaving your ticket purchase till race day can be a gamble so pre-booking helps with securing the best ticket and add-on experience prices, your preferred seating areas and selecting the venue of your choice. 
You can buy NASCAR tickets at the gate, on the day of the race.  For affordable NASCAR race experience, research online and purchase in advance.  NASCAR events are varied and widespread and have many options and deal packages to be aware of, for your budget-friendly race day or weekend.
Don't worry – you can buy NASCAR tickets at the gate, but here are some pointers regarding roughly what costs a NASCAR racing event can include if researched and booked in advance.  Different locations, races, packages and seating can affect the cost of your NASCAR ticket.  Let's take some figures from pervious events:
Cup tickets can vary dramatically from US$45 per person, to US$500 per person.  This of course depends on when you book and where you go.
Monster Energy NASCAR Cup Series, Hollywood Casino 400 playoff races and NASCAR Gander Outdoor Truck Series races all have tickets starting off at around $65 for adult, $30 for 12-year-old and below, with some races making youth aged 12 and under free of charge with a paying adult.
You can get your hands-on Nationwide Series tickets from US$65 per person, depending on venue.
'Garage Tour' passes can be found at about US$180 per person
'Pre-race Pit Passes' on the race weekends are around US$140 per person
Eating and drinking expenses can add up very quickly if you are at a decent lodge or hotel restaurant or if you can't face fast food all weekend.  Most races allow you to take a cooker into the venue and make your own drinks and snacks, which makes the weekend healthier on the stomach and the wallet.  Otherwise you want to budget at least $200 per person for the weekend of restaurant, takeout and bar bills.
Hotels and lodges can be booked that are literally two minutes from the track; a previous Kansas Speedway event saw a two-bedroom family room (for the October Nationwide and Cup races) costing $1000.00 for total weekend stay.  However, you can get cheaper options 30-mins or more away, roughly $100.00 per room per night, but then factor in a taxi getting there and back.
Camping –   You can get season passes at the Kansas Speedway; US$130 for 2-person tents and around US$250 for an RV which you can't beat for affordability and location.
Are NASCAR Tickets Refundable?
NASCAR tickets are refundable either in the form of credits to rebook or in cash, depending on your ticket type, so always check the terms and conditions before purchase.  Tickets on promotion or discounted, usually means there are not refundable or amendable.
For refundable NASCAR tickets avoid 'Supersaver' types which normally offer no changes or refunds. 
If a race is rained out or canceled by NASCAR organizers, tickets can be refundable depending on the venue.   Ordinarily, standard rate tickets are refundable if canceled more than 8-days prior to race day.
Some venues offer full refunds for rained out events, others, understandably, want you to re-book and not lose the business. 
Daytona International Speedway offers a "Worry-Free Weather Guarantee" and certain participating venues refund regular tickets bought for any NASCAR race grandstand under the "Weather Protection Program" policy.
It also depends on if you are a season ticket holder or just attending a particular race.  When visiting faraway venues, if there is a race cancellation or your plans have changed unexpectedly for whatever reason, take note of any transportation and accommodation terms and conditions regarding refunds.